Provisioning plays a big part in the world of yachting and lots of planning goes into purchasing the necessary provisions for your vessel. Compiling your yacht provisions list can be time-consuming and slightly daunting, especially if you're planning a trip with a large number of guests and crew. There are many things to consider, and some of them are easily overlooked.
At Maritime Network Panama, we have years of experience in yacht provisioning and can offer advice on important things to remember when buying provisions. As a specialist ship supplier, we have been involved in many provisioning assignments and we often see the same issues and mistakes being made.
In an effort to help with your next yacht provisioning list, we have come up with some top tips and advice that will help ensure you avoid following in their footsteps.
Number of yacht crew and guests
The first thing you'll need to consider is the number of people you're purchasing provisions for – It's essential to know the quantities you require for each product, not only so you can cater for everybody on board but to help maximise your provisioning budget.
You'll need enough supplies to keep everybody fed for the duration the yacht is away from the port, so be sure to think about what's required for each meal since you may not have an opportunity to replenish. It's also good practice to be prepared for any unforeseen circumstances you may encounter: ordering extra supplies will ensure you're well stocked in case of emergency. There's nothing worse than running out of food.
Allergies and dietary requirements
The list of potential special requirements is a long one, encompassing food allergies and intolerances (e.g. dairy-free, fish and shellfish allergies, nut-free and gluten-free), special dietary requirements (e.g. vegetarian, vegan and pregnancy) and religious exclusions (e.g. halal or kosher)
So, it's essential that you have a conversation with your crew and/or guests to find out if there are any dietary restrictions or allergies on board.
If you do have vegetarians and vegans on board, try to find out if they are happy to be around the preparation of meat, or will you have to find a separate way to cater to them as well as the carnivores?
Catering to yacht charter guests with special dietary requirements can be tricky, but there's an easy way to avoid any potential issues. Simply, ask what they usually buy and make it clear that you want to have plenty of items on board to help make their stay more comfortable.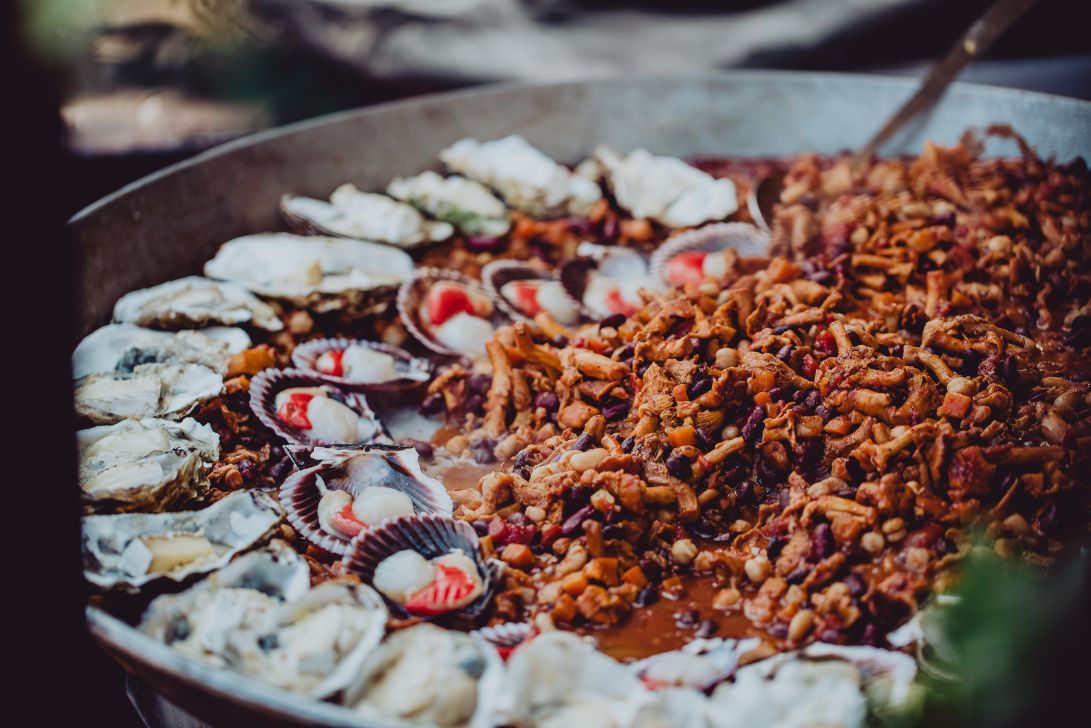 Storage space for yacht supplies
It's important to ensure that you have enough space to store the provisions you order. This is especially important when dealing with fresh produce (e.g. meat) which may need to be stored in a fridge or freezer. You should never allow meat, poultry, seafood, eggs or other foods that require refrigeration to sit at room temperature for more than two hours.
Fresh fruit, vegetables and eggs are the last things to stock up on before leaving port. This will ensure the products you buy last as long as possible.
We can also source produce from local markets, meaning our clients receive the freshest ingredients direct from suppliers. This guarantees that our produce tastes fantastic and is able to be stored outside of the fridge for as long as possible.
Long-lasting yacht provisions
Finding the right balance between buying too much or too little is something that can be tricky to get right. So, if you're concerned about overbuying and having significant wastage then we'd recommend opting for non-perishables (e.g. canned goods) and items with longer shelf life.
That way, if the items don't get used on your next trip then there will be plenty of time to use them at a later date.
Stocking up on staples such as rice, sugar, oats, powdered milk, dried fruit and pasta is also a good idea if you're planning a long yacht charter trip. It's also worth investing in good-quality storage containers to keep your supplies fresh for as long as possible.
Choosing a provisioning company
Finding the right provisioner for your upcoming yacht charter is especially important because some provisioning companies supply very limited products (e.g. alcohol only) whilst others can source a more comprehensive range.
Plus, when it comes to ordering fresh produce, location is another key factor that needs to be taken into account. It's worth thinking about how fresh will the food be when it finally arrives from a provisioner located a lo way from your vessel.
At Maritime Network Panama, we offer bespoke services tailored to the specific requirements of our clients. We have a wide range of options available and always deliver quickly and efficiently. Our yacht provisioning department can cater to any requests, from hand-selected fruit and vegetables to the last-minute delivery of flower arrangements. We also have a fantastic chandlery that can supply any type of ship, from merchant fleets to cruise ships. Stocking everything from yacht paints to specialist safety equipment, we can handle requests far beyond those offered by standard yacht provisioners.
So, if you would like further information about any of the yacht provisioning services give us a call today. Alternatively, you can email us at supplies@mnpanama.com. Our experienced team will be happy to discuss your specific requests and share their yacht provisioning expertise.